LIVE FALCONS FOR YOUR EVENTS
Peregrines, Sakers, Lanner, Gyrs and Hybrids
The only Birds of Prey used by Emirati falconers and Bedouins in the Arab Hunting Tradition of Falconry.
FLYING DISPLAYS
After a lecture on the role of falconry in the Middle East, the characteristics of the species and their equipment, our falconer demonstrates the training style used to work a falcon. Nothing is quite as exciting as witnessing a Peregrine Falcon in flight.
Duration: 1 hour
Location: your event
STATIC DISPLAYS - 'Rent-a-falcon'
Enhance the typical Arabic atmosphere at your events by displaying the beauty of the Falcon. Ideal for Corporate Events, Weddings, or 'Meet & Greet' Services, Cruise Ships or Airport Terminals.
Location: your event
Duration: as per request

EDUTAINMENT
Invite our falcons to your institute. Our entertaining and knowledgeable falconer introduces your students to the importance of falcons in Arab Culture and the role they play in the environment.
Location: your institute
Duration: as per request

Please visit us on Facebook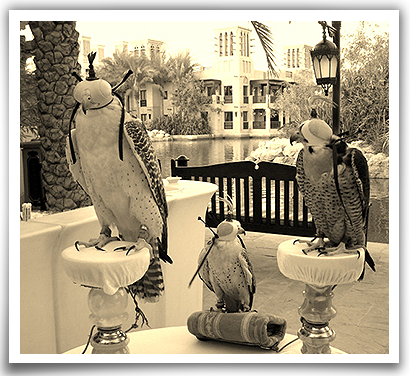 BEHIND THE SCENES
Private guided tour through our professional falconry outlet. Meet our falcons and learn about how they are used in an environmentally friendly way for Bird Control. Witness how they live in their 'mews' and weathering grounds and how they perform during a spectacular training flight.
Location: Al Hurr Falconry Services
Duration: 1 hour
Groups: up to 25 persons
We are happy to offer you a tailor made experience or a combination of the above services. Please contact us for more info, bookings and rates. Bookings are subject to availability. T&C apply.